Orga's L240 – The Way Ahead in Obstruction Lighting
Orga introduces the L240. A low intensity red obstruction light specifically designed to function on top of the nacelle of a wind turbine. With its diameter of only 240mm our new low intensity obstruction light is small, but packed with state-of-the-art technology.
The new L240 low intensity light features an InfraRed function and is specifically designed for night-time marking of wind turbines that are not positioned at the periphery of the windfarm. The light is an addition to Orga's portfolio of low intensity lights that are placed halfway up the tower.
"The smart integrated systems make that the L240 can be used as a stand-alone light or in a multiple lights system."
LED's and optical design working together: A powerful combination
Advanced LED technology maximises the intensity and colour output. The precision engineered optical design ensures tightly focused beam spread to limit ground scatter and light pollution.
Sealed for life
The L240 has a new internal set-up based on a single PCB design (Printed Circuit Board) which abolishes the need for any internal wiring. The durability of the LED-technology and the used materials, in combination with the simplicity of the internal design, made it possible to seal the lens of the L240 to its base.
Sealing the product protects the internal components from internal moist, ultimately preventing corrosion or electronics failure. This makes the L240 a robust, easy-to-install, very reliable and maintenance free light, a sustainable and cost-efficient obstruction lighting solution.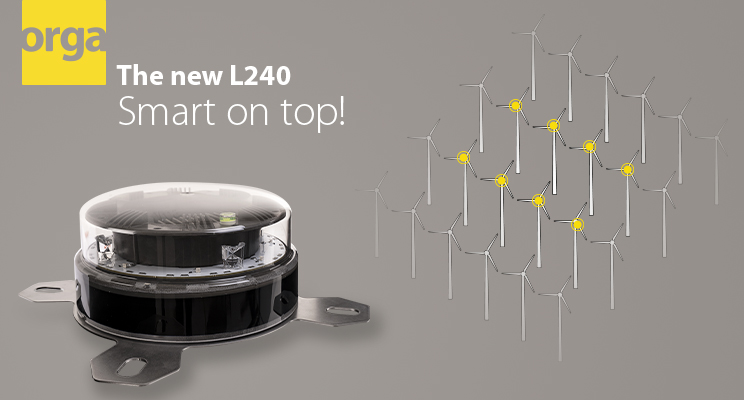 Integrated GPS receiver and photocell
The GPS synchronizes the flashes of lights on a single turbine or within a wind farm.
The photocell monitors the amount of ambient light. When light levels drop below a certain value, the L240 switches on. The light adjust its brightness to the ambient light conditions.
Health Monitoring System
The health monitoring system gives insights into product performance by means of the Control Interface Panel (CIP).
Optional heater for de-icing
The light can be fitted with an integrated heater for de-icing functionalities in the harshest and iciest conditions.
Only one cable required
Only one cable is needed to control this smart fixture. Orga's SLC cable transfers both data and power, ensuring that after connection the light is ready for operation.
The L240 complies with minimum requirements of ICAO Annex 14 and meets local regulations in Denmark, Finland and Sweden.
Click here for L240 product details