Essentially, a helideck status light tells a helicopter pilot not to land on the helideck during conditions deemed to be hazardous for the helicopter, its occupants or others. Orga's L425EX-700 is a high-intensity warning beacon that flashes red light at an intensity of 700Cd. The status light is part of Orga's Touchdown/Positioning Marking Circle and Heliport Identification Marking 'H' LED lighting system and it is governed by a control panel that interfaces with your platform's fire and gas detection system.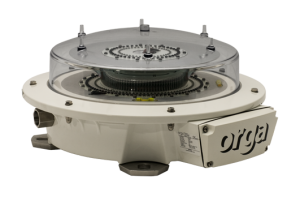 Status lights
Explosion proof LED helideck status (wave-off) light.
View product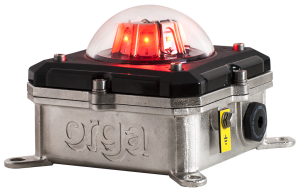 Status lights
Explosion proof red helideck status repeater light
View product
Why do you need a helideck status light?
A helideck status light is necessary to warn the pilot not to land on the helideck in the event of a hazard. This could, for example, be the release of gas that might constitute an explosion hazard, or the presence of an obstruction or personnel on or near the helideck. It goes without saying that the light is suitable for use in zones 1 and 2 gas explosion hazard areas.
The Orga helideck status light has been specifically designed to meet ICAO and IMO regulatory requirements, as well as the UK Civil Aviation Authority's latest CAP437 standard for helideck lighting systems. Regarding the latter, the helideck status light is an essential prerequisite for compliance with CAP437, which initially set out guidance standards for offshore helicopter landing areas and which, from 2018 onwards, will become mandatory in British waters. Failure to comply with CAP437 will mean your helideck will be restricted to daytime flights only.
Why choose Orga's helideck status lights?
Orga's helideck status light offers clear advantages, such as the reliability and long life that is facilitated by the use of state-of-the-art, high power LEDs and technology. It also boasts easy installation, long maintenance intervals and low power consumption, thanks to an efficient optical design. Furthermore, a low profile makes it possible to attach the light's stainless steel mounting facilities directly on to the helideck. An integrated junction box and the application of a high quality protective coating on its cast light alloy base gives it optimum resistance to the harsh offshore environment. Orga is the way ahead when it comes to making your helideck CAP437 compliant.