The lights in Orga's HTP100EX-A and HTP100EX-G LED lighting panels burn a steady yellow and green, respectively. The yellow lights illuminate the Touchdown/Positioning Marking (TD/PM) Circle, while the green lights illuminate the Heliport Identification Marking 'H' to give the helicopter pilot clear visual cues during approach and landing at night and in all types of weather conditions. These lighting panels form part of Orga's TD/PM Circle lighting systems and Heliport Identification Marking 'H'.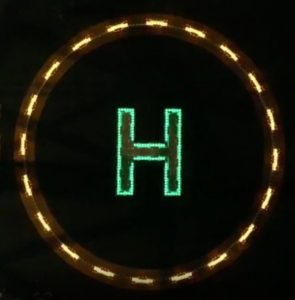 TD/PM Circle-H lighting system
TD/PM Circle-H
Explosion proof LED touchdown/positioning and heliport identification marking light system
View product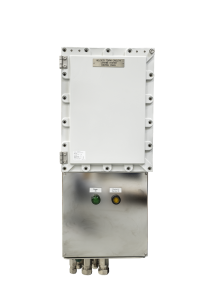 TD/PM Circle-H
Certified LED helideck Circle and H identification system control panel
View product
Why do you need illuminated Circle-H helideck lighting?
TD/PM, Circle-H lighting makes it possible for pilots to make much smoother and safer landings on offshore installations than was previously possible at night, or during poor light or adverse weather conditions. It eliminates the sometimes dangerous and disorienting 'black-hole' effect in the helideck that pilots previously often found so challenging.
Orga's TD/PM, Circle-H lights have been specifically designed to meet ICAO and other relevant regulatory requirements, as well as the UK Civil Aviation Authority's latest CAP437 standard for helideck lighting systems. Regarding the latter, these lights are essential prerequisites for compliance with CAP437, which initially set out guidance standards for offshore helicopter landing areas and which, from 2018 onwards, will become mandatory in British waters. Failure to comply with CAP437 will mean your helideck will be restricted to daytime flights only.
Why choose Orga's helideck TD/PM, Circle-H lights?
Our TD/PM, Circle-H lights solution stands head and shoulders above those of competitors. But this is hardly surprising, given that Orga developed the products in collaboration with the CAA during the definition of its CAP437. Not only does our solution comply with the eighth revision of CAP437, it is also, very importantly, a non-netted system. This means it is easy to maintain and install, even on an operational helideck. Thanks to this, downtime is low, permitting a 30-minute medevac window for emergencies. And because the Circle-H lights are compatible with Deck Integrated Fire Fighting systems, they are fully in line with CAA requirements.
Further advantages of our TD/PM, Circle-H lights include a low-profile design that allows direct mounting on the helideck and the kind of reliability and long life that's facilitated by the use of state-of-the-art, high power LEDs and LED technology. The semi-flexible construction of the light units allows for possible helideck distortions and provides improved impact resistance. What's more, the protection of the cables makes them resilient to heavy mechanical stress. The light panels are also helideck friction-test friendly, meaning they do not have to be removed for friction testing. And, in addition to being durable, robust and with a low power consumption, they boast a 'fit and forget' design, which means they will never need to be recertified. For optimum offshore suitability the LED housings are fabricated from fully sealed, high quality marine plastic materials and they have integrated cable connections and stainless steel mounting brackets. Finally, in addition to having been fully offshore trialled to meet operational and environmental requirements, they are suitable for use in zones 1 and 2 gas explosion hazard areas.