High intensity obstruction lights
Orga's low, medium and high intensity obstruction light solutions are used all over the world to make high-rise structures like tall buildings, towers, skyscrapers, bridges and offshore structures, more visible to passing aircraft. Orga's L500 High intensity obstruction lights are part of our broad pioneering range of aviation LED obstruction lighting. The Orga L500 light series provide white flashing or white and red steady or white and red flashing LED light for reliable day, twilight and night time marking of high-rise structures and buildings taller than 150 meters. Battery back-up systems, visibility sensor systems and controllers with advanced communication interfaces are available to complement your Orga aviation warning light system.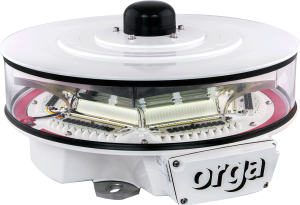 High intensity obstruction lights
High intensity LED obstruction light
View product
Why do you need high intensity obstruction lights?
Orga's high intensity obstruction lights are designed to meet the most demanding applications and situations worldwide. Operational safety underpins the aviation industries licences to operate. To maintain these licences, you need an up-to-date obstruction light system that meets your operational needs and complies with the most stringent of national and international regulations. At Orga, we work in close cooperation with international regulators and national military flying agencies to design and develop infrared aviation obstruction lights for viewing with night visual aids.
As our customers operate in many different countries, we are familiar with the latest international and national regulations and safety standards. At Orga we can not only help you meet these challenges, we can help you stay ahead of them.
Why choose Orga's high intensity obstruction lights?
Over 40 years of experience, coupled with our in-house research & development department and manufacturing facilities, make us a strong and reliable partner. But never a complacent one; we work closely with our customers to continually improve and expand our products.
In the L500 white & dual white/red light, we offer you a high intensity LED obstruction light that is lightweight, easy to install and requires zero maintenance over their service life. To underpin your operational safety, Orga's high intensity obstruction lights are built in a rugged housing to withstand the most hostile conditions on extreme heights. In combination with built-in photocell, built-in power supply, built-in flash synchronisation, built-in monitoring and infrared night vision output, Orga's high intensity obstruction light for day and night is the best choice you can make.